Stock market's record bull run shows few signs of slowing down
Stock market averages are hitting record highs routinely, and there are few red flags to indicate they are about to peak. Instead, historical data suggest a continued upward trend.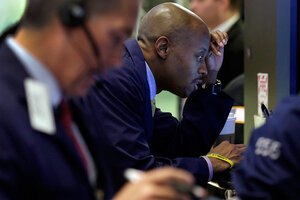 Richard Drew/AP/File
Despite the goings-on in Washington, the stock market has been setting numerical records.
Last Thursday, both the Dow Jones Industrial Average and the Standard & Poor's 500 index had surpassed the Oct. 9, 2007, bull market high. Now, many investors are wondering how much longer this run can continue.
On the positive side, the stock market is carrying a lot of momentum into April. Since the beginning of the year, the Standard & Poor's average is up 10.2 percent including dividends. The Federal Reserve is still keeping interest rates low. And, despite fears that the financial crisis in Cyprus might spread, the US economy seems insulated – so far.
But there are reasons for caution, too. The affect of sequestration – the automatic spending cuts in Washington – have not yet filtered through the economy. Stock analysts are anxious about the prospect for earnings going forward. And there is uncertainty over what might happen with North Korea, which appears to be edging closer to some form of confrontation.
---