Jobs report for March a disappointment. What happened?
The US economy created only 88,000 jobs last month. Possible factors include the increase in payroll taxes, which went into effect at the beginning of the year, and the tailing off of repairs from superstorm Sandy.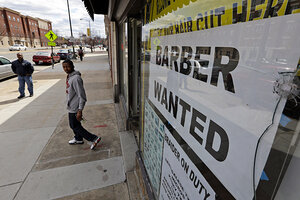 Steve Helber/AP/File
March appears to have been a clunker for the economy.
In a surprise to most economists, the economy created 88,000 jobs last month, the Bureau of Labor Statistics (BLS) reports. If that level were to continue, it would imply very slow economic growth.
At the same time, the unemployment rate edged lower, from 7.7 percent to 7.6 percent. But the main reason for the drop was fewer people in the workforce, probably because they could not find jobs.
It was not clear why job growth was so weak after growing by 268,000 in February and 148,000 in January, economists said. There were no high-profile weather events, and the effect of the budget battle in Washington that resulted in sequestration had not really kicked in yet.
"This is just a bad report," says economist John Canally of LPL Financial in Boston. "You just hope it is a one-off."
From a policy standpoint, the latest numbers were likely to reinforce the Federal Reserve's stimulus policy, economists said.
"There had been some talk that maybe the Fed might start to stop being so accommodative," says John Silvia, chief economist at Wells Fargo in Charlotte, N.C. "This number will temper that view: The Fed's policies will remain in place."
---