Carnival to repay costs of rescue: What's the tab?
Carnival plans to repay the U.S. government for responding to the disabled Carnival 'Triumph' and 'Splendor' cruise ships, which left thousands of passengers stranded for days.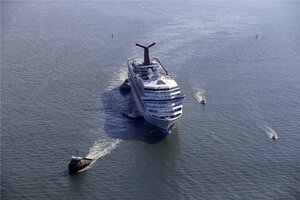 Gerald Herbert / AP / File
Carnival Corp. said Monday it will repay the U.S. government an unspecified amount for the costs to taxpayers of responses to disabling accidents on its Triumph and Splendor cruise ships, both of which left thousands of passengers stranded at sea for days.
The world's largest cruise line company said the payments were being made voluntarily to the U.S. Treasury Department and that no government agency had requested reimbursement for either accident.
But Carnival had come under pressure from U.S. Sen. Jay Rockefeller, who was highly critical last week of Carnival's indirect responses to his inquiries about its willingness to pay.
Rockefeller, chairman of the Senate Commerce Committee, estimated the Coast Guard's costs in dealing with the crippled "Triumph" earlier this year at nearly $780,000. The 2010 engine fire that left the "Splendor" adrift off of Mexico, he said, cost the Coast Guard and Navy about $3.4 million. The Navy work in that case included delivering food from the aircraft carrier USS Ronald Reagan.
In both cases, passengers were left in uncomfortable and even squalid conditions before the ships made it back to port.
Carnival's statement did not say if it would pay those amounts or something else. But the company insisted that it never flatly rejected the idea of reimbursement.
"It should be clearly noted that at no point in time has Carnival stated that it would refuse to reimburse federal agencies if they sought remuneration," said the company statement.
---