Finished 2012 taxes? Plan for '13.
Before you close the books on 2012, spend a few minutes thinking about taxes for 2013. High-income taxpayers in particular will have to plan to ease tax bite.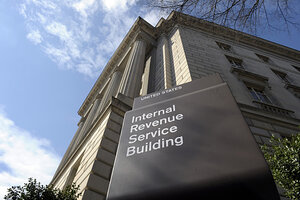 Susan Walsh/AP/File
Computer screens glow late into the night. Piles of receipts spill onto the floor. America's tax season is in full swing and the end is in sight.
But before you close the books on 2012, spend a few minutes thinking about taxes for 2013. Lower- and middle-income Americans can plan for tax breaks temporarily preserved this year. High-income Americans will need a strategy to handle the increased taxes coming their way.
Perhaps the best tax news for 2013 is that rates will stay the same for most taxpayers. But you'll have to act fast to take advantage of several tax breaks slated to disappear in 2014. Unless Congress acts, this is the last year teachers will be able to deduct as much as $250 in their out-of-pocket expenses for classrooms.
Ditto for homeowners paying mortgage insurance and tax-payers age 70-1/2 and older who withdraw as much as $100,000 from their traditional individual retirement account to give to charity. Normally, with-drawals from a non-Roth IRA are included as taxable income. The American Opportunity Tax Credit, which allows families to deduct as much as $2,500 in tuition-related expenses, has been extended through 2017.
It's not so rosy for those with big medical bills. Instead of being able to deduct any of those expenses above 7.5 percent of their adjusted gross income (AGI), this year's threshold is 10 percent.
There's also a new $2,500 limit on flexible spending accounts, which employees use to pay health expenses with pretax dollars. But "a lot of people had been moving to HSAs [health savings accounts] anyway," says Mark Luscombe, principal analyst at CCH Tax & Accounting based in Riverwoods, Ill. "So the overall impact of this might not be as great as it once might have been."
---