Dow at 15,000: What the stock market is telling us
As Wall Street posts a new record, experts decode its message about the state of the economy – and whether it's too late to invest.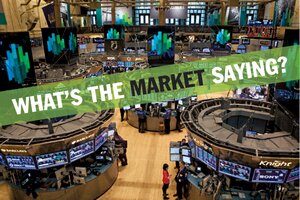 Melanie Stetson Freeman/The Christian Science Monitor
A year into the worst economic downturn since the Great Depression, James Angel went all in with stocks – in fact, more than all in. In January 2009, the finance professor at Georgetown University bought leveraged exchange-traded funds, which allowed him to borrow money so he could own more stock. He was convinced the market was nearing its nadir. He thought it was a perfect time to invest.
The market was cruel, at first. Already down more than 40 percent since 2007, stocks sank another 25 percent between January and March – enough that Mr. Angel needed to put in more money to keep his borrowing in line with the declining value of his holdings.
"I didn't realize I was close to a margin call," he recalls. "I was too busy teaching."
His broker sold some of his holdings before Angel's portfolio slipped to the point where he couldn't cover all his losses. Having inadvertently sold stocks when the market was so low, he walked into class that morning and announced to his students, with the dark humor of someone who knew he had probably liquidated assets at precisely the wrong moment: "This is the bottom."
And so it was. On March 9, the Standard & Poor's 500 index closed at 676.53 – a 12-year low. Since then, the market has been downright cocksure. The S&P 500 index is up some 135 percent – the fifth-strongest bull market since 1929 – giving Angel and others who invested at the right time a very healthy return. (Angel is still fully invested in stocks.)
With the S&P hitting record highs this spring, the market has erased all the trauma and financial turmoil of the past six years. And that poses a fundamental question for Americans from Long Island to Los Angeles. What is the market telling us?
---