US mortgage rates tick downward again: Good news for home prices?
US mortgage rates, still historically low, are sustaining progress in the housing market and giving the US economy a needed boost. But when rates rise – or Fed policy shifts – home prices can take a hit.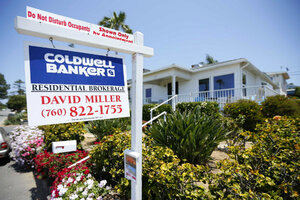 Mike Blake/Reuters/File
First the good news: Mortgage interest rates ticked downward for a second straight week. But it's still been a volatile ride in recent months, and the general direction of interest rates for home loans has been up.
What does that mean?
If you're a home buyer, that means the money you've budgeted for housing doesn't go as far, in terms of the price you can offer to pay.
If you're a home seller or home owner, a spike in interest rates can sometimes stall or even reverse the trend of rising home values. But the damage of rising interest rates doesn't appear to be as bad as you might expect. History tells the tale, as we'll see in a moment.
As of Thursday, the latest average interest on a 30-year fixed-rate loan is 4.31 percent a year, according to the firm Freddie Mac. That's down from 4.51 percent two weeks ago.
Still, current US mortgage rates are also up a full percentage point from where they stood back in January. So the fact that their upward race has stalled, for a couple of weeks at least, is welcome news for the housing market.
"Mortgage rates eased for the second consecutive week which should help to alleviate market concerns of a slowdown in the housing market," Frank Nothaft, chief economist of Freddie Mac, said in a statement released with the weekly mortgage data. "Existing home sales for June were the second highest since November 2009 and new home sales were the strongest since May 2008."
---