US economy plods along at 162,000 new jobs in July; unemployment dips
The unemployment rate fell to 7.4 percent in July, the lowest level since Obama took office. But job growth was tepid, at best. The numbers mean the Fed is unlikely to interrupt its stimulus measures anytime soon, analysts say.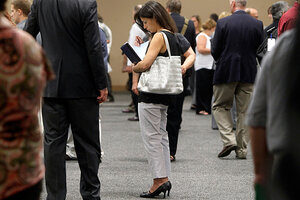 Toby Talbot/AP/File
The US economy continues to hobble forward at a cumbersome pace as job growth failed to meet most analysts' expectations, adding 162,000 new jobs in July – the lowest number since January.
At the same time, however, the unemployment rate fell to 7.4 percent, slightly beating expectations and representing the lowest rate of joblessness since President Obama took office.
The weaker-than-expected jobs numbers, reported Friday morning, reveal a slight change in what had been a steady trend: The US economy had posted job gains averaging roughly 195,000 a month during the past few quarters, and most analysts had expected July job growth to continue this tepid but steady trend.
But the Labor Department revised downward the number of jobs created in June, dropping it from 195,000 to 188,000. It also revised May's number, dropping its previous estimate by 19,000 for a new total of 176,000 jobs created.
The spiritless numbers were anticipated by the Federal Reserve on Wednesday, perhaps, when it downgraded its economic outlook and said the economy was expanding at a "modest" pace, rather than the "moderate" pace seen in June. The Federal Open Market Committee (FOMC) also said it planned to continue current monetary policy, including its stimulus program of quantitative easing, an $85 billion-a-month bond-buying program.
"The report is disappointing, with weaker job growth in July compared to the first half of 2013," PNC senior economist Stuart Hoffman told ABC News. "Despite the drop in the unemployment rate, the softer job growth in July, combined with the downward revisions to May and June, makes the Federal Reserve slightly less likely to reduce its purchases of long-term assets when it next meets in mid-September."
---