Chick-fil-A free breakfast is back. How to get it.
Chick-fil-A free breakfast is available next week, but it requires making a reservation online ahead of time. This year, Chick-fil-A free breakfast comes as the chicken breakfast market is becoming a bit more competitive.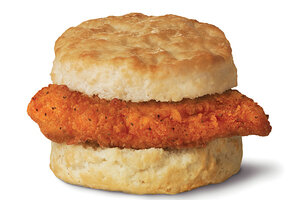 Chick-fil-A/PRNewsFoto/FIle
Once again, it's time for the fast food promotion that requires a little bit of planning ahead.
Chick-fil-A is bringing back its "Breakfast on Us" giveaway, offering free breakfast entrées to customers next week, Sept. 9 through Sept. 14. But simply showing up won't do: Chicken biscuit enthusiasts must sign up online.
Getting a Chick-fil-A free breakfast requires going to Chick-fil-A's website, selecting a nearby participating location, a meal item, and a time slot. Depending on location, breakfast hours are generally between 6:30 a.m. and 10:30 a.m. The Atlanta-based chicken sandwich chain started taking reservations last Thursday, and there is still plenty of time to sign up: Depending on availability, breakfast slots can be reserved until Sept. 13, and at least two Virginia locations had thousands of time slots still open.
Customers may choose one of 10 items, including a chicken biscuit; a spicy chicken biscuit; a sausage biscuit; a three-pack of Chick-n-Minis (chicken nuggets wrapped in tiny bread buns, more or less); a chicken, egg, and cheese bagel; a bacon, egg, and cheese biscuit; a chicken breakfast burrito; a sausage breakfast burrito; oatmeal; or a yogurt parfait.
Chick-fil-A has been running the promotion for years, but this year's giveaway comes as the company moves to expand its footprint in the fast-food breakfast market. Earlier this summer, the chain began select market testing of several potential new breakfast menu additions, including a maple waffle, a cinnamon biscuit roll, a sausage English muffin sandwich, and a bacon, egg, and cheese bagel sandwich. Those items are making appearances on menus in middle Georgia, the Inland Empire in California, and the greater Philadelphia area through Nov. 2.
"The breakfast day part [of the menu] continues to be a tremendous growth opportunity," Steve Robinson, Chick-fil-A's chief marketing officer, said in the announcement of the breakfast giveaway on the company's website. "We have steadily focused on maximizing the breakfast day part with a variety of enhancements and promotions over the past several years, and we home our 'Breakfast on Us' promotion will encourage our current customers to try something completely different and also help attract new breakfast customers to us."
Just in time, too, because the chicken breakfast market is becoming crowded. Chick-fil-A has been serving breakfast for decades, but New Orleans-style fried chicken chain Popeye's began testing breakfast in a single market this past May, and KFC introduced a breakfast menu internationally last year. McDonald's, meanwhile, serves a Southern Style Chicken Biscuit in certain regions, in direct competition with Chick-fil-A's star breakfast offering.  
---