Nielsen's new TV ratings tool? Twitter.
Nielsen has launched TV Twitter Ratings, meant to measure the online social conversations around television shows. The TV Twitter Ratings launch is the latest effort by the TV industry and its advertisers to find more diverse measures of a show's success than traditional live ratings.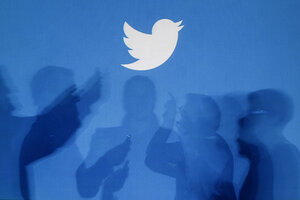 Kacper Pempel/Reuters/File
The series finale of the critically touted AMC drama "Breaking Bad" netted 10.3 million viewers when it aired last week. It was an all-time record for the show and the third-highest rating for a scripted cable drama ever, but still middlingin  the grand scheme of TV ratings: A hit network show like the CBS sitcom "The Big Bang Theory," for instance, racks up over 20 million viewers on a typical night.
But "Breaking Bad" far surpasses "The Big Bang Theory" in one arena: Twitter. And starting today, that becomes one official measure of success for shows on television.
Monday, television ratings company Nielsen announced the official launch of Twitter TV Ratings, a tool that tracks TV-related conversations on the social networking site. In the inaugural report, covering the week of Sept. 23-29, "Breaking Bad," was the top show,  followed, in order, by an episode of NBC's "The Voice," an episode of "Jimmy Kimmel Live," and "Dancing with the Stars."
According to Nielsen, Twitter for TV measures both the number of users tweeting about these programs and the audience reading those tweets – a more sophisticated measure of the depth and reach of a certain conversation than just a search for certain words.
In other words, "Breaking Bad gets a rating boost if 1 million people Tweet during the finale, but a user with 1 million followers posting about the show could be nearly as helpful.
"Until now, only the amount of Tweets and respective Twitter authors has been measurable," Nielsen's Monday announcement read.  "Without a measurement of the audience of people who view those Tweets, TV networks, advertisers and agencies were left wondering about the true reach and influence of TV-related activity on Twitter."
Nielsen's research suggests that the Twitter audience for a TV show is approximately 50 times larger than the number of people actually Tweeting about it – so two Tweets equal 100 viewers and a lot of free advertising for shows.
Twitter and Nielsen will use the data collected to coordinate with advertisers, who could use the information to decide when and where to buy ad space.
The partnership with Nielsen is yet another way that Twitter is working to entrench itself in the television world. Last week, the company struck a deal with the NFL to stream video clips (and attached advertising) through its "Amplify" service. Similar deals have already been set up with CBS and ESPN, among others. In its recent IPO filing, Twitter cited such partnerships with traditional media companies as an area where its profits have potential to grow.
Twitter conversations are fast becoming endemic to the TV viewing experience, from scripted dramas to sports. Per the Nielsen release, tweets about live television events grew 38 percent in volume from last year, to 263 million tweets in the second quarter of 2013. If you miss an eventful episode of "Game of Thrones" or "Downton Abbey" live, it's probably a good idea to avoid Twitter until you can catch up.
Of course, TV Twitter Ratings differ wildly from actual Nielsen ratings. Though "Breaking Bad" took the former category by a wide margin (second place finisher "The Voice" netted 3.28 million tweets to "Breaking Bad's 9.28 million), it didn't even crack the top 20 in the latter.  
But measures of a show's success are becoming more varied, and that matters to advertisers. Next year, Nielsen will begin to incorporate viewership on mobile devices, including phones and tablets, into its traditional ratings system in an effort to provide a more complete picture of a show's viewership, beyond the live numbers.  
---