How to donate stocks and mutual funds to charity
(Read article summary)
Here are some tips on how to donate stocks and mutual funds to charity.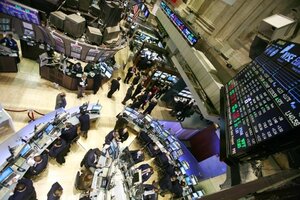 AP Photo/Mark Lennihan/File
IRS tax regulations allow you to donate stocks and mutual funds to non-profit organizations. Understanding a few tax implications regarding your contribution will help add value to your donation. However, many people think that donating the stock and selling the stock to give the money to a charity yields the exact same results. However, by donating the stocks with a capital gain, both the donor and the recipient will benefit more if the stocks are donated instead of selling them and donating the cash.
A Brief Introduction to Capital Gains:
When you sell a stock or mutual fund for more than you paid for it, the IRS will require you to pay taxes on those gains. For example, if you purchase something for $100 and it grows to be worth $110, when you take out the $110 you will be required to pay capital gains taxes on $10.
You will need to learn about mutual fund capital gains in order to fully understand the benefits of donating stocks instead of cash.
Why Donate A Stock or Mutual Fund With A Gain To Charity?
When you donate a stock to a charity, you give them the actual stocks.
Thus, using the illustration above, you would give the charity $110 worth of stock. The IRS would allow you to claim a charitable donation for $110. The charity can then sell the stock for $110 and they end up with $110.
Disadvantages of Selling a Stock or Mutual Fund and Donating the Money to a Charity
However, if you sell your stock, you will pay a capital gains tax. If you sell your $110 worth of stocks, then you would need to pay 30% in taxes (purely for illustrative purposes – visit this to find out your exact capital gains tax rates) on your $10 capital gain. Once you pay $3 in capital gains you now only have $107 to donate to the charity. Perhaps you still want to donate $110 so you would need to actually donate $113 of your own money in order for the charity to get $110.
---