High gas prices are a bipartisan failure
(Read article summary)
Neither Republicans nor Democrats are offering up policies that will effectively address high gas prices.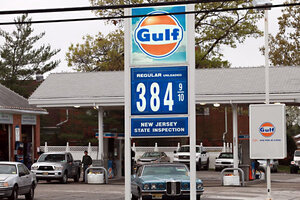 Vernin Ogrodnek/AP/Press of Atlantic City
Red Herrings: Speculation & Regulation
As I noted last week, I have been working on a short paper for ASP on gas prices. It was published earlier today with a title of "Cause & Effect: U.S. Gasoline Prices." I also published an Op-Ed in The Hill "Running on empty: Failing to address high gas prices" and was quoted in Reuters saying "The truth is, neither party is offering policies that will effectively address high gas prices."
The report seeks to get beyond both party's preferred narratives on gas prices and looks more deeply at the root causes of today's high gasoline prices. Hopefully, it will puncture some of the assertions and rhetoric that both political parties use about gas prices, whether it's shouting "speculation!" by those on the left or "too much regulation!" by those on the right.
The truth, of course, is that crude oil is the essential ingredient to 90% of our gasoline supply (ethanol is blended in to provide the other 10%). Although gasoline prices vary widely around the world due to differing tax regimes, regulatory rules, and market requirements, crude oil is a globally traded commodity with prices set in a global marketplace.
This Isn't the 1950′s
The root problem with the politics of gas prices in the U.S. right now is a failure to admit that we are only a (relatively) small part of a global market. It is as if we were stuck in the 1950s, where production from the U.S. was more than half of the world's production. Republicans think that all we need to do is produce more, and prices will come down, while Democrats think that it's all about how Wall Street trades oil contracts. These measures would probably work if the U.S. were producing and consuming half of the world's oil production. But, in a world where we're responsible for 9% of production, while consuming 20%, we simply do not have the ability to control prices.
---