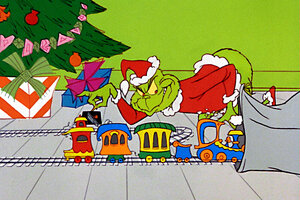 Courtesy of Warner Home Video
Over at Forbes.com, Art Carden has a brilliant retelling of Dr. Seuss's "How the Grinch Stole Christmas" (ht: Greg Mankiw). Carden recasts the story as a parable about externalities and property rights.
He starts with the Grinch's view that Who singing is a nuisance: Mises Economics Blog
He hated the shrieks of the Who girls and boys
For fifty-three years he'd put up with it now—
He had to stop Christmas from coming, somehow.
He asked and he questioned the whole thing's legality
Then his eyes brightened: he screamed "externality!"
He reached for his textbooks; he knew what to do
He'd fight them with ideas from A.C. Pigou.
As regular readers know, Pigou argued that externalities — pollution, singing Whos, etc. — could be addressed by levying taxes that reflect the harm imposed. So maybe, the Grinch might reason, he should help himself to some Who presents and roastbeast whenever they sing.
---