Time to privatize Fannie and Freddie? How about a compromise?
(Read article summary)
The CBO weighs in on the idea of a private-public hybrid compromise for Fannie Mae and Freddie Mac.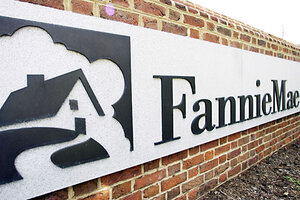 Manuel Balce Ceneta / AP / File
Yesterday, the Congressional Budget Office released its long-awaited report on the future of Fannie Mae and Freddie Mac. Fannie Mae, Freddie Mac, and the Federal Role in the Secondary Mortgage Market (written by Deborah Lucas and David Torregrosa, with input from a cast of dozens — including, full disclosure, me as an outside reviewer) provides an outstanding overview of Fannie and Freddie's history, the arguments for and against a government role in the secondary mortgage market, the flaws of the precrisis structure of Fannie and Freddie, and the pros and cons of possible reform models.
Readers may recall that last spring Phill Swagel and I proposed a reform in which Fannie and Freddie would be privatized, the government would sell guarantees on mortgage-backed securities composed of conforming loans, and that this guarantee would be available not only to Fannie and Freddie but also to qualified new entrants. (Here's the blog version; here's the full paper.)
CBO provides a thoughtful overview of such hybrid models:
A Hybrid Public/Private Model
---
Follow Stories Like This
Get the Monitor stories you care about delivered to your inbox.