A better future for housing finance?
(Read article summary)
The Treasury has come up with some good ideas about reforming housing finance.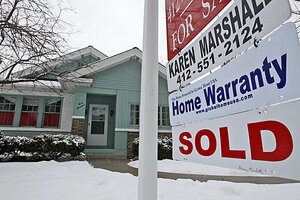 Gene J. Puskar / AP / File
Today was a big one for housing finance. Treasury kicked things off with its much awaited report to Congress on "Reforming America's Housing Finance Market." And then the Brookings Institution hosted a full day conference on "Reforming the U.S. Mortgage Market."
Both Treasury's report and the conference showed that there's still important debate about the potential merits and demerits of a continued government backstop in the prime mortgage market. Treasury's three options, for example, run the gamut from no guarantee to a backstop guarantee that kicks in during bad times to a permanent, broad-based guarantee. I'll have more to say on these options in the future.
---