Any difference between tax breaks and spending programs?
(Read article summary)
The Supreme Court recently ruled that state tax breaks are different from spending programs, but the effect of each is the same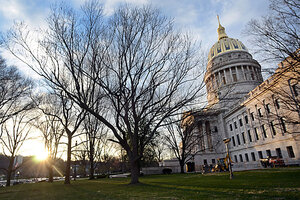 Jeff Gentner / AP / File
As regular readers may recall, I believe that many tax preferences — but not all — resemble spending programs run through the tax code. The tax exemption for municipal debt, for example, essentially taxes investors (who get lower interest rates than they could from other taxable investments) and gives the money to state and local governments (who pay lower interest rates than they otherwise would). It's effectively taxing and spending, except the money never reaches Washington.*
As my colleague Bob Williams notes over at TaxVox, that perspective took a legal hit the other day when the Supreme Court ruled that state tax breaks are fundamentally different from spending programs, at least for purposes of legal standing:
In 1968, the Court ruled that citizens may sue to stop the government from spending that violates the Constitution, in the specific case supporting religious activity (Flast v. Cohen). Citizens had standing to sue, the Court concluded, because the challenged spending directly affected taxpayers who fund government programs.

The current case, Arizona Christian School Tuition Organization v. Winn et al., involves not direct government spending on an unconstitutional activity but rather a tax credit that serves the same purpose as a spending program. Arizona allows taxpayers to claim a non-refundable credit of $500 a year ($1,000 for couples) for donations to qualified school tuition organizations (STOs), which then use the funds to support tuition payments to private schools. The original suit claimed that STOs violated the First Amendment's prohibition of government activities promoting the "establishment of religion" because tuition payments could go to parochial schools.
---