What a dead raccoon can teach about incentives and property rights
(Read article summary)
When a raccoon dies on your property, you have three choices of what to do with it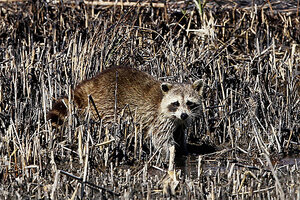 Patrick Semansky / AP / File
It seems like only yesterday that I met Rocky. Probably because it was yesterday.
Our smallest cat Caramel was staring intently upward. Following his gaze, I spied Rocky tucked between two branches high in the silver maple near our deck.
Rocky didn't look well. Raccoons aren't usually out and about at 3:00 on a sunny afternoon. Lounging in the sun isn't their thing.
Esther and I thought about calling the animal control authorities–rabies is not unheard of around here–but decided to wait until morning to see if Rocky looked better. No point harassing (or worse) the poor guy if he's just an eccentric raccoon who wanted some sun.
A higher authority came calling overnight, though, and Esther found Rocky motionless under our deck.
Wild animals are one of my domestic responsibilities, so it fell to me to go poke Rocky with a stick to check his status. Result: deceased.
So what do you do with a dead raccoon?
This is precisely the sort of question at which the web excels. Sure enough, "dead raccoon" generates more than 30,000 hits on Google. But they boil down to only three flavors of advice: (1) Do it yourself, (2) Make it someone else's problem, or (3) Turn it into a media sensation by claiming you've discovered a monster.
#3 wasn't really an option – Rocky was clearly a raccoon — so I tried the nice version of #2, calling Montgomery County Animal Control to see if they handle deceased raccoons. No dice. If the deceased is on your property, it's your responsibility – bag him and put in the trash was the advice. If he were on a county road, however, that would be a different matter. Then the county would pick him up.
---