The 5 percent growth plan: nice but not promising
(Read article summary)
A presidential candidate thinks the US can grow its economy by 5 percent in a decade, and a professor has come up with a plan for it. The plan isn't impossible, but it's still not very realistic.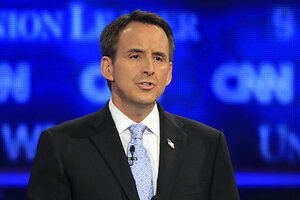 Jim Cole / AP
Last week, I argued that Governor Tim Pawlenty's aspiration for 5% economic growth over a full decade is implausible since the United States has achieved such steady growth only once since World War II.
Over at Economics One, Stanford economics professor John Taylor offers a more positive take, defending the goal and offering a recipe for achieving it: 1% from population growth, 1% from employment growing faster than the population, and 2.7% from productivity growth.
Add it all up and you get 4.7% growth, a bit short of Pawlenty's target but close enough for government work.
That sounds great, and I hope it happens, regardless of who is president. But let's take a moment to kick the tires on Taylor's assumptions.
Two seem fine:
His productivity growth assumption is optimistic, but realistically so. Nonfarm productivity has grown at a 2.7% pace, on average, since 1996. Few analysts see that persisting. CEA forecasts assume 2.3%, for example. But the U.S. economy has demonstrated that 2.7% productivity growth is possible for a decade or more.
---