Don't fall for a repatriation holiday
(Read article summary)
Companies who choose to bring foreign earnings back home shouldn't get a tax break on them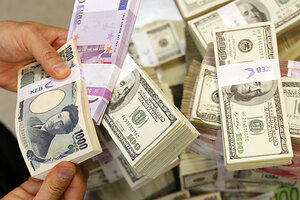 Photo illustration / Truth Leem / Reuters / File
Recent weeks has brought much chatter — from both Republicans and Democrats — about offering companies a temporary tax holiday for repatriating foreign earnings. A typical proposal would effectively tax any repatriated earnings at 5.25% this year, rather than the usual rates which can be as a high as 35%.
Proponents tout this as a form of economic stimulus. But, as my Tax Policy Center colleagues Bill Gale and Ben Harris point out, that's doubtful. In "Don't Fall for Repatriation" at Politico, they say:
In addition, firms are unlikely to invest the repatriated funds. Congress passed a similar repatriation tax holiday in 2004 and required firms to create domestic jobs or make new domestic investments to get the tax break. Nonetheless, the firms, on average, used the tax break to repurchase shares or pay dividends — not to increase investment.

The holiday, instead, turned into a massive tax break for shareholders — resulting in little or no economic gain or job market expansion. Why? Because money is fungible, to satisfy the requirements of the law, corporations reported repatriated funds as the source of money for investments or jobs they would have created anyway — and used other funds to increase shareholder wealth.

Today, domestic firms are sitting on near-record levels of liquid assets. The reason they're not investing or creating more jobs is not a cash shortage.
---