It's debt limit time (again). What past showdowns can teach us.
(Read article summary)
Once again, the US Treasury is facing the possibility of going past the debt limit, which could prompt major policy changes or minor tweaks to the Federal budget. This feels like a modern phenomenon, but debt limit showdowns are nothing new.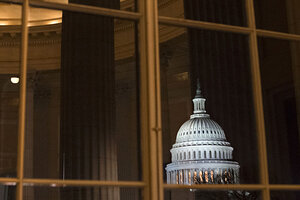 J. Scott Applewhite/AP/File
It's debt limit season again. Treasury will soon exhaust all the "extraordinary" (if familiar) measures it's using to stay within the limit. By mid-October, Treasury will have just $50 billion on hand. Once that's gone–maybe at Halloween, maybe a bit later–Uncle Sam won't be able to pay all his bills or will be forced into doing something desperate like breaching the debt limit or minting platinum coins (kidding, mostly).
We seen this movie before. Sometimes it ends with major policy changes, such as the 2011 deal that spawned the sequester. Other times it leads to minor tweaks, such as the January 2013 deal that linked congressional pay to passing separate budgets through the House and Senate.
These showdowns feel like a modern phenomenon. But over at Tax Analysts, tax historian Joe Thorndike reminds us that a similar showdown happened in 1953 under President Eisenhower:
"Soon after President Dwight Eisenhower took office, his administration began signaling the need for additional borrowing authority. But conservatives were not convinced. "For the Administration, this would be the easy way out of hard decisions," warned the Wall Street Journal. "[T]o lift the debt ceiling for this 'emergency' need will make the whole idea of a debt ceiling meaningless. To impose a limit on the government's debt and then to change it the moment it begins to squeeze makes of the whole thing a trick for fooling people."
---