Deficit reduction plan: Durbin and Bixby weigh in
(Read article summary)
Senator Dick Durbin (D-IL) and the Concord Coalition's Bob Bixby comment on the impact of the Bowles-Simpson deficit reduction proposal.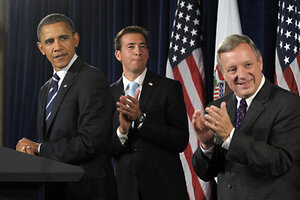 Susan Walsh / AP / File
I really can't say it any better than these two have today– Senator Dick Durbin (a Democratic leader from Illinois) and my boss Bob Bixby (executive director of the Concord Coalition).
Senator Durbin explains his "yes" vote:
On Friday, when President Barack Obama's National Commission on Fiscal Responsibility and Reform gathers to consider a plan to bring our national debt under control, I will be voting yes. It was not an easy decision, and I know my vote will be widely criticized, but I believe it is the right thing to do.

The simple fact is this: America needs to grow our economy and reduce our $13.8 trillion debt.

This plan is not perfect, and it is certainly not the plan I would have written. But it will help put Americans back to work and it will reduce our federal debt dramatically. If we don't act now — if we pass this issue on to another Congress, another generation — the tough choices we face now only get tougher…

The question my closest political friends are asking is this: Why is a progressive like Dick Durbin voting for this deficit commission report? First, all politicians, left or right, Democrat or Republican, have to acknowledge the deficit crisis our nation faces. Borrowing 40 cents out of every dollar we spend for missiles or food stamps is unsustainable. And being indebted for generations to China and OPEC does not make American a stronger nation.
---