Dems fight over 3 percent of the tax deal
(Read article summary)
Congressional Democrats are making noise over the estate tax cuts, though they're only 3 percent of the total cuts. These cuts are deep and deficit-funded, but so is the rest of the agreement.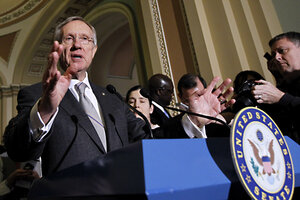 (AP Photo)
The Senate is about to pass the full tax cut "compromise," but House Democrats are trying to hold out for a more fiscally responsible option. From the Washington Post's Lori Montgomery (emphasis added):
The strong Senate vote also appeared to have weakened resolve among House Democrats to block the measure when it comes to the floor this week. After meeting for two hours with rank-and-file lawmakers late Tuesday, senior Democrats said the House is likely to stage votes to change the terms of a revived estate tax that many Democrats view as overly generous to the wealthy.

Outraged by the agreement to exempt individual estates worth as much as $5 million from taxation, senior Democrats said they would press to lower the threshold to $3.5 million. They also want to impose a stiffer tax on larger estates, by setting the rate at 45 percent rather than the 35 percent demanded by Republicans and agreed to by Obama.

Those are the same terms that were in effect in 2009. The estate tax expired for the 2010 tax year but is set to spring back to life next month with much tougher provisions. House Democrats said their alternative would hit only about 6,600 of the nation's wealthiest households while raising an additional $26 billion over the next two years compared with the Obama-GOP compromise - money that could be used to reduce the soaring national debt.
---