Bush-Obama tax cuts: At least my dog didn't die this weekend
(Read article summary)
The first time these tax cuts passed, it was an even sadder weekend.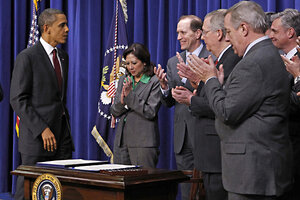 Jim Young / Reuters
So the first time the Bush tax cuts were signed into law (by President George W. Bush), my beloved golden retriever "Sunny" (short for "Sunshine") unexpectedly and very suddenly died in my backyard under her favorite tree. This was on a rainy Saturday over Memorial Day weekend, 2001–making it a miserable, tragic weekend all around.
I'm relieved to report that at least my dog didn't die this time around, now that President Obama has signed them into law and turned them into the "Obama tax cuts."
From the signing ceremony (video above), there's a lot of happy talk about "bipartisanship" and "compromise." But it's easy to "compromise" when you don't have to give up anything–when instead you just have to stop resisting what the other side wants. As Vice President Biden explains (emphasis added):
The famed 18th century British statesman, Edmund Burke, once said, "All government, indeed every human benefit and enjoyment, every virtue, and every prudent act, is founded on compromise and barter." Today, we have a crystal clear example of what he meant.

This package — this package is a result of leaders from both sides coming together to act on behalf of the American people at a time they need it most…
---
Follow Stories Like This
Get the Monitor stories you care about delivered to your inbox.