Cockeyed optimists and the federal budget
(Read article summary)
Will congressional Republicans and President Obama reach a budget deal this year?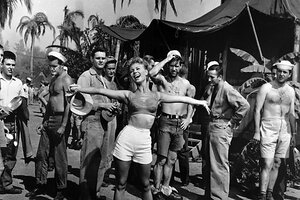 20TH CENTURY FOX/Album/Newscom
In Sunday's Washington Post, the "Topic A" question (at the back of the A section) asked about the (my italics) "prospects that the president and congressional Republicans would reach a serious budget deal this year." My answer was "basically nil" because politicians still view putting things on the table as admitting fault. Bill Gale's answer was "small" because the Republicans are still too entrenched in their "no new taxes" fantasy world. Maya MacGuineas sounded a bit more optimistic that policymakers might actually try doing the right thing but only after they try all the wrong things first! But Alice Rivlin, the only person who was on both President Obama's fiscal commission as well as (co-chair of) the Bipartisan Policy Center's version, was clearly the most optimistic of us all, saying (emphasis added):
---
Follow Stories Like This
Get the Monitor stories you care about delivered to your inbox.