Obama's chance to get back in the game
(Read article summary)
The president has an opportunity to take a liberal stance on reducing the deficit. Will he take it?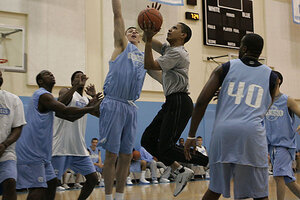 Jae C. Hong / AP / File
If the President really is to rebut House Republican budget chairman Paul Ryan's plan, he's going to have to say something completely new in today's speech. He's going to have to say that reducing the deficit is as important as creating jobs, but that there's not necessarily a tradeoff. And he'll have to reassure his liberal base (what's left of it?) that the way you avoid that tradeoff is to take the polar opposite strategy of Ryan–which is not to not reduce the deficit (which, I'm sorry, "fearmonger" that I am, really will ultimately hurt all of us, rich or poor), but to reduce the deficit through better tax policy. (Example: a Brookings paper I wrote on just such an approach over four years ago which reads amazingly like it was written yesterday.) The President can't go on merely empathizing with his liberal base by complaining about the heartless, clueless Republican approach to deficit reduction, which is to drastically slash government spending programs in favor of tax cuts all the time for any reason, while at the same time basically embracing the bulk of the Republicans' tax-cutting approach. (The extension of the Bush/Obama tax cuts still accounts for more than 100 percent of the cost of the President's budget proposals.) Huh?
---