What do John Boehner and Jon Stewart have in common?
(Read article summary)
Neither Boehner nor Stewart can recognize certain preferences in the tax code for what they really are – spending.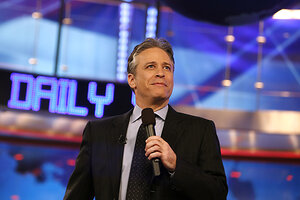 Jason DeCrow / AP / File
Thanks to Len Burman's latest insight on his brand-new, awesome blog on Forbes.com, what was otherwise going to be a pretty ordinary complaint about a pretty dull yet aggravating speech by House Speaker John Boehner (which has already gotten lots of spot-on criticism, including this column by Ruth Marcus), is now a post where I get to point out a much more entertaining Jon Stewart video!
Apparently, John Boehner and Jon Stewart have this in common: they both don't understand how special preferences in our tax code are just a different form of government spending, and hence how reducing such "tax expenditures" would reduce both the budget deficit and the size and scope of government.
As Len explains in his "Dear Jon" letter:
For 40 years, tax geeks like me have been trying to explain that there's a boatload of spending programs masquerading as tax cuts, and they're multiplying. Their number increased by almost 60 percent between 1987 and 2007.

The fact that pols can claim credit for "tax cuts" (good) rather than "spending" (bad) has made them irresistible to legislators of both parties. Never mind that the IRS doesn't have the budget or expertise to effectively administer a couple hundred spending programs (sorry, tax cuts) or that many of them make no sense. The tax code's cluttered with this junk.
---