Don't tax you, don't tax me, sell the gold behind the tree!
(Read article summary)
One proposal for deficit reduction goes far beyond the 'tax the guy behind the tree' attitude. Should the US sell off some of its gold to avoid taxing citizens more?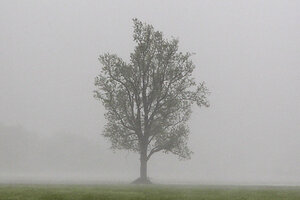 Jeff Roberson / AP / File
I thought Sunday's front page story by Lori Montgomery in the Washington Post–on the idea of reducing federal government retirement benefits–was just the latest (depressing) installment of politicians avoiding broad-based, fundamental reforms that are needed to get projected budget deficits down to economically-sustainable levels. Government workers are to the conservatives what really rich people and evil corporations (be they oil and gas ones or financial/insurance ones) are to liberals: not a middle-class, Main-Street, majority of voters, and hence a group those policymakers are willing to say ought to pay for deficit reduction.
But today's (Monday's) front page story highlights an idea that goes way beyond the "tax the guy behind the tree" attitude. As Joel Achenbach explains:
With the United States poised to slam into its debt limit Monday, conservative economists are eyeballing all that gold in Fort Knox. There's about 147 million ounces of gold parked in the legendary vault. Gold is selling at nearly $1,500 an ounce. That's many billions of dollars in bullion
---