Who needs a Nobel Laureate when we have Google?
(Read article summary)
Nobel Prize winner Peter Diamond was turned down from the board of the Federal Reserve. Are his philosophical and analytical perspective undervalued?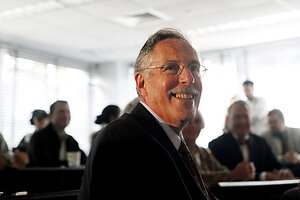 Stephan Savoia / AP / File
I was debating on what to write about tonight–either the update on Nobel Prize winner Peter Diamond's failed nomination to the Federal Reserve Board (with his very public withdrawal as shared via the New York Times), or Minnesota governor (and Republican presidential candidate) Tim Pawlenty's speech on his "economic plan" (text of speech here via the Wall Street Journal's Washington Wire blog). I decided I could do both in one post, because both Peter Diamond (in his NYTimes column) and Tim Pawlenty (in his economic policy speech) talk about how they would approach improving the role and quality of government in our lives.
By the way, the Diamond nomination appeared doomed back in October of last year when Diamond had just won the Nobel Prize–as I wrote about at the time, here. The updated story on the "why" (from Diamond's new column) isn't really any different from the story last October.
As Diamond explains:
Last October, I won the Nobel Prize in economics for my work on unemployment and the labor market. But I am unqualified to serve on the board of the Federal Reserve — at least according to the Republican senators who have blocked my nomination. How can this be?
---