Prop 23 is dead: Long live California's green guinea pig!
(Read article summary)
California voters resoundingly voted down Proposition 23, which would have limited the environmental requirements of law AB 32, California's anti-greenhouse gas law.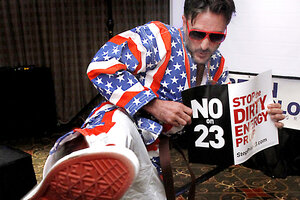 Rich Pedroncelli / AP
"When policies advantageous to moneyed interests confront policies focused on emissions reduction, it is the moneyed interests that will win out every time." source California's Prop 23 was thumped last night in a 61% to 39% defeat. This suggests that this quote is wrong or isn't nuanced enough.
Does this California vote to unilaterally battle climate change make any sense to political economy scholars? For all those who fear the pernicious effects of "Big Oil"'s petro dollars and the political influence it is supposed to buy, why didn't the Texas "invasion" of California's airwaves succeed?
Now, the interesting fact in this case is that the "moneyed interests" split on this issue. To speak in cliches, the dinosaur fossil fuel companies supported Prop 23 while the "New School" green techn interests supported it. Anticipating that green investors need certainty and clear signals from government, I support the roll out of AB32. We need to play the green card to achieve a game changing technological leap.
I don't believe that we will cap global greenhouse gas emissions any time soon but we can slow the increase in emissions through such technological advance. I don't care whether fears of Peak Oil or the anticipation of government regulation drives technological advance to encourage us to substitute away from fossil fuels.
---