Gas-guzzling clunkers surround Caracas climate conference
(Read article summary)
With gas prices at $0.10 per gallon, Venezuelans find no reason not to drive Nixon-era clunkers.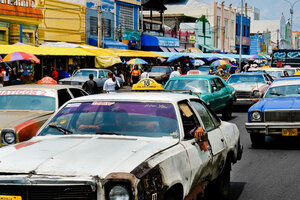 sc4 / ZUMA Press / Newscom / File
Caracas, Venezuela has an older vehicle stock. "We like our cars to be like tanks in this country, meaning they should be huge, comfortable and preferably manufactured in the United States," said Miguel Delgado, 52, a mechanic in Los Frailes, a slum on this city's western fringe, where he was working on a 1976 Dodge Coronet and a 1979 Chevrolet Impala.
With gas prices at 10 cents per gallon, the people of Caracas can splurge on fuel inefficient vehicles and the early 1970s live on. Now, we know that Venezuela is not a rich nation and that vehicles over age 30 are not demanded by rich people. This combination of cheap gas and demand for relatively "low quality" roomy cars creates an economic environment in which durable cars can live on for a long time.
This point is exactly what Lucas Davis and I were thinking about when we wrote our NAFTA paper. You remember that one? Here is the abstract:
---