How can your cell phone protect you from air pollution?
(Read article summary)
A California nonprofit now lets any camera-equipped cell phone measure your exposure to black soot.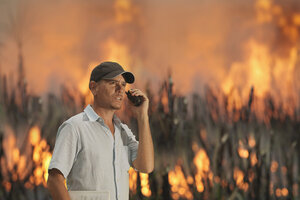 Monty Rakusen / Cultura / Newscom / File
I wonder if Hayek owned a cell phone? This article about the cell phone reports that soon you will be able to determine whether you are exposed to high levels of air pollution just by waving your phone around.
"Rather than using cell phones to just snap photos of friends or the occasional celebrity sighting, phone users in California may get the chance to track levels of harmful black soot near their workplaces and homes.

Tech entrepreneurs created a simple circular filter that darkens over time as it absorbs black soot. Anyone with a basic cell phone camera can take a picture of the filter next to a calibration chart that reflects different black soot pollution levels - no smartphone required. "We don't need a fancy app for this, because we just need to be able to e-mail it or SMS it to our system," said Martin Lukac, a cofounder of the nonprofit Nexleaf Analytics. Sending the photo via e-mail or text to an online database allows the cell-phone user to get back info about black soot concentration. The power of that information is that it reflects the individual person's exposure to air pollution."
---