From Katrina to snowmageddon: lessons government should learn
(Read article summary)
From Katrina to the Christmas blizzard to river floods, the government has botched natural disaster relief management. Here's how to do it right.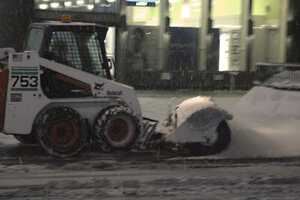 Rich Kareckas / AP Photo
As Mike Bloomberg just learned in the Great Snow Mess of December 2010, people want a lot of services from government when a weather shock takes place. People want the wise government to anticipate how nasty the snow storm will be, to correctly warn the people, and to have the resources to have an ample fast clean up crew ready once the weather event has played out and dumped a lot of snow.
In the real world, this hasn't been how things have worked. Consider the Nashville Floods of 2010. source
"The National Weather Service failed to warn of major flooding in Nashville in the spring until after it had already taken place, and residents did not heed warnings because they didn't reflect the urgency of the flooding, which killed 22 people around the state, a new report shows.
The report released by the weather service on Wenesday found that the agency's river forecasters ignored two models that showed more accurate flood predictions for the Cumberland River. Instead forecasters favored a model that relied on inaccurate and untimely information from the U.S. Army Corps of Engineers. The weather service continued to use that data despite observations on the ground that proved their flood predictions were inaccurate."
---