Do liberals stunt population growth?
(Read article summary)
Home prices are higher and population growth is lower in some liberal parts of the country.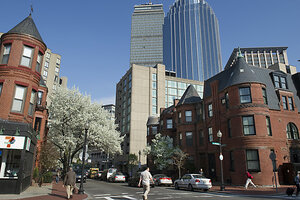 Mary Knox Merrill / Staff / File
In a short OP-ED, Professor Ed Glaeser sketches the puzzle of his home state. Massachusetts is experiencing lower population growth than the nation but has relatively high home prices. Glaeser argues that limits to housing supply in such liberal places explains this fact. At the other extreme is Texas, with no limits to growth, few liberals, little home price appreciation and lots of population growth. Glaeser points to the loss of a Congressional Seat as evidence that MA has shot itself in the foot by slowing growth. Is this last statement correct?
Why are home prices high in Boston? It ain't the weather or the accents. Boston is a quaint University town that resembles NYC's little brother. Having lived there for 9 years, I do believe that its liberal culture has blocked housing growth but this same "liberal ideology" has led to funky restaurants to open, historic architecture to be preserved (cobblestone), walk and ride public transit stations to be valued, and to a celebration of its elite research universities. Every fall the city comes to life as a new cohort of 18 year olds arrive to start their intellectual (and drinking) journey.
So, what is my point? The presence of liberals in a city does block new housing supply but I believe that they have a causal role in increasing the city's quality of life. Joel Waldfogel's Consumption Externality stories can be used here. For example, if creative hippies live in larger numbers in a certain part of Boston then funky stores will locate nearby to sell to them. You won't see Starbucks and Barnes and Noble there.
---