Can the University of Texas put a number on professors' worth?
(Read article summary)
The University of Texas at Austin has published a spreadsheet that shows the cost-effectiveness of its faculty members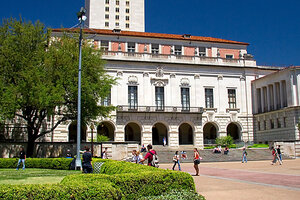 David R. Frazier / DanitaDelimont.com "Danita Delimont Photography"/Newscom/File
After carefully studying the spreadsheet posted here, I can now confidently say that I'm one of the world's leading experts on Economists' pay at the University of Texas at Austin. University of California academics have grown used to our salaries being public information so I welcome my UT friends to our club of "exhibitionists".
Other economists should join us by posting their 9 month salary next to their name on their webpage. Perhaps, the NBER could ask each of its family members to post their true 9 month salary next to their name. Such honesty would be refreshing and it would help Deans to decide who might be a tempting hire. Compensating differentials scholars would be able to write a high quality paper on measuring the "combat pay" that is required to lure someone from a Los Angeles to a Houston.
The more interesting piece of the UT experiment is its intent to design some performance metrics for each faculty member to judge their "cost-effectiveness". This is only fair. Education economists are helping elementary schools design "test score value added" criteria to identify which teachers are key inputs in the child quality production process. Such "good teachers" (those with a positive fixed effect) are likely to receive a bonus. In a similar spirit, the Deans want to know who is the Deadwood and who is the highly paid Deadwood. They want Wood that is thinking of slowing down and becoming "Deadwood" to be aware that the Deans will know that they have made this choice. Performance criteria do create accountability.
From glancing at the UT spreadsheet, the criteria they want to use are; number of courses taught, the count of undergraduates enrolled in your classes, the count of graduate students enrolled in your classes, and your total federal grant dollars that you receive. Will UT's economists score high on these criteria?
A self-serving argument is that these attributes represent a small part of the job. A professor can point to his peer reviewed articles, books, editorial positions, government consulting, participation in alumni events, mentoring of student theses, mentoring of junior faculty, serving on university committees, talking to reporters and being quoted as from University X as examples of the multiple dimensions of activities we participate in. A Dean knows this. The Deans were once professors but now they are "Management".
---