Gas prices wouldn't hurt so much with stricter fuel efficiency laws
(Read article summary)
Gas prices would be less painful if the US government raised fuel economy standards for new vehicles. Do perks, like being more immune to high gas prices, count as a 'free lunch' from the government?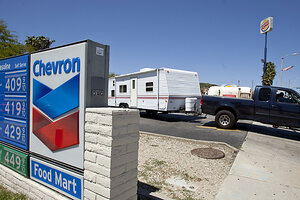 Damian Dovarganes / AP
By raising new vehicle fuel economy standards by 3 to 6% per year, the U.S government is offering us lower annual gasoline bills, less greenhouse gas emissions, and safer roads (if we all drive around in smaller cars we end the "arms race" on our roads as the laws of physics F=M*A holds). In this editorial , the NY Times implicitly says that this is a "free lunch".
Do economists agree? Are we so nasty that we do not support higher disposable income, less climate change, and increased safety? Perhaps, but there is another issue lurking.
Chris Knittel, a MIT economist, has a paper that will published soon in the American Economic Review. Here is an old version. Here is a quote from my friend Chris' paper;
"New car fleet fuel economy, weight and engine power have changed drastically since 1980. These changes represent both movements along and shifts in the "fuel economy/weight/engine power production possibilities frontier". This paper estimates the technological progress that has occurred since 1980 and
the trade-offs that manufacturers and consumers face when choosing between fuel economy, weight and engine power characteristics. The results suggest that if weight, horsepower and torque were held at their 1980 levels, fuel economy for both passenger cars and light trucks could have increased by nearly
50 percent from 1980 to 2006; this is in stark contrast to the 15 percent by which fuel economy actually increased."
---