Improve quality of life downtown, reduce our carbon footprint
(Read article summary)
A possible move by a Connecticut-based UBS bank back to downtown New York City illustrates how a vibrant city life can attract people to live in the city center.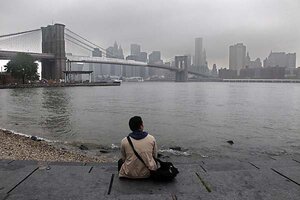 Bebeto Matthews / AP
Where do the skilled want to live and work? Those areas have a bright future. This article provides a quick case study of the possibility that UBS bank may move from the "boring" NYC suburbs back to the Center City because the bankers want to live downtown without the nasty commute.
To quote the article:
"It turns out that a suburban location has become a liability in recruiting the best and brightest young bankers, who want to live in Manhattan or Brooklyn, not in Stamford, Conn., which is about 35 miles northeast of Midtown. The firm has also discovered that it would be better to be closer to major clients in New York City."
So, this has been a major theme of my work for several years. Ed Glaeser and I discuss some of these issues here and here. In ongoing work, I have been interested in measuring how compact city living shrinks our carbon footprint as center city residents live in smaller housing units, use public transit more and drive less. If you want to see some work on this, read this.
---