My 10 most important books
(Read article summary)
Among the 10 most important books that influenced this blogger are an encyclopedia and a comic book.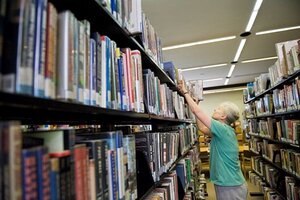 Mary Knox Merrill / The Christian Science Monitor / File
What are the 10 most important books you have read in your life? (Tyler Cowen actually recommends that we list the most influential). Anyway, here are mine:
The Worldly Philosophers: The Lives, Times And Ideas Of The Great Economic Thinkers
Leading Lever of Riches by Joel Mokyr
The 2007 Index of Economic Freedom
Brave New World by Aldous Huxley
The End of History and the Last Man by Francis Fukuyama
The Diamond Age by Neal Stephenson
The Mighty Avengers, Issue # 160-177
What It Takes: The Way to the White House by Richard Ben Cramer
Capitalism, Socialism, and Democracy by Joesph Schumpeter
The World Book Encyclopedia
I don't have links, but here is one I highly recommend: goodreads.com. I keep a list of the books I read, with my notes, and also keep tabs on my friends.
---