The deficit isn't a math problem – it's a rules problem
(Read article summary)
The new budget proposals underline an old Kane-ism: The deficit isn't a math problem. If it were, Congress would have solved it already.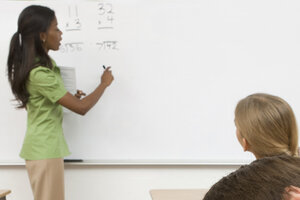 Photo illustration / OJO Images / Newscom / File
I'm as encouraged as the next Serious Person to talk about the intricacies of budgetary math. What do you non-economists think we do on Friday nights, anyway. So the report of President Obama's budget commission is the perfect Thanksgiving feast. For an abbreviated summary, I recommend Kevin Hassett, Felix Salmon, and the pointers provided by the ever reliable Mark Thoma. For fun, I'll provide snippets from each of the three, and challenge you to guess whose is whose:
A ... On the other hand, bold ideas in terms of new taxes — carbon taxes, wealth taxes, Tobin taxes, consumption taxes, you name it — are nowhere to be seen: as Jonathan Chait says, this is "a plan that's tilted, overwhelmingly, toward Republican priorities". Which means a large dash of wishful thinking, a bunch of tax cuts (!), and even a cap on the amount of tax revenues that the government can bring in. How that's meant to help reduce the deficit I have no idea.
B ... Beginning a tax overhaul by closing loopholes is a strategy that should appeal to those on the political left, the ones that so far are voicing the loudest criticism of the Bowles-Simpson plan. A chart released with the plan shows that eliminating all tax breaks, other than the refundable credits targeted toward the poor, would reduce the after-tax income of those in the top 1 percent of the income distribution by almost 14 percent, those in the middle quintile by about 4 percent, and those at the bottom by only about 1 percent.
---