West Point graduates: Why our best officers are leaving early
(Read article summary)
The U.S. military claims to support independent thinking and entrepreneurship among officers, but a survey of 250 West Point graduates suggests that conformity, not merit, is rewarded.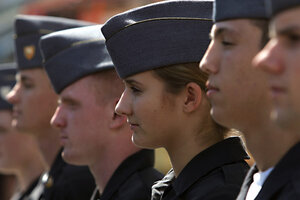 Mike Groll / AP / File
Today, the Atlantic magazine's January/February issue was published, which features an essay Why Our Best Officers Are Leaving by yours truly. I'll share a snippet of the essay here, then follow with some comments about putting together the research and writing behind the 5-page article.
Why Our Best Officers Are Leaving

Why are so many of the most talented officers now abandoning military life for the private sector? An exclusive survey of West Point graduates shows that it's not just money. Increasingly, the military is creating a command structure that rewards conformism and ignores merit. As a result, it's losing its vaunted ability to cultivate entrepreneurs in uniform.

John Nagl still hesitates when he talks about his decision to leave the Army. A former Rhodes Scholar and tank-battalion operations officer in Iraq, Nagl helped General David Petraeus write the Army's new counterinsurgency field manual, which is credited with bringing Iraq's insurgency under control. But despite the considerable influence Nagl had in the Army, and despite his reputation as a skilled leader, he retired in 2008 having not yet reached the rank of full colonel. Today, Nagl still has the same short haircut he had 24 years ago when we met as cadets—me an Air Force Academy doolie (or freshman), him a visiting West Pointer—but now he presides over a Washington think tank. The funny thing is, even as a civilian, he can't stop talking about the Army—"our Army"—as if he never left. He won't say it outright, but it's clear to me, and to many of his former colleagues, that the Army fumbled badly in letting him go. His sudden resignation has been haunting me, and it punctuates an exodus that has been publicly ignored for too long.
---