Just when I wanted to hate ... Biology
(Read article summary)
A refreshing change of topic – to the Biology AP exam.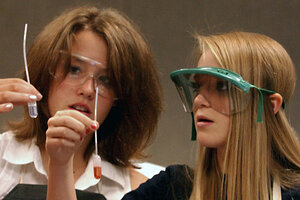 Charles Nesbitt / Birmingham News / AP / File
[Editor's Note: Guest blogger Tim Kane first wrote this post on January 11.]
The horrifying and sad news of the killing spree by a deranged gunman, I believe his name is Loughner, who targeted an impressive young Congresswoman, a judge, a little girl, and many others, has flooded the news. I've read a fair amount, but after a dozen articles, the mind reels. Surely, other news merits our attention as well. That's hard to find.
Today, it seems the dominant storyline is about the appropriateness of blaming political rhetoric, map targets, reading lists, talk radio, with the ever reliable Paul Krugman being tripped up by the ever reliable Greg Mankiw (I'll leave it to you to assess in which way these economics bloggers are reliable).
I'll avoid any discussion of the now three-named killer. I'll skip "alleged" by the way, given that I live in reality where eyewitness accounts of one person causing the death of another need not be preceded by "alleged." Suspension of disbelief resides comfortably in 21st century overlegalized courtrooms and fantasy movies, but not here. But I digreess. This post is not about the killer, the killing, or the blame game, but about the difficult quest for a news safe haven. I'll note just for fun that the reliably interesting SLATE has multiple commentaries on the blame game, taking all sides. (I'd link to them normally, but that would counter my intentions in this post).
I wondered if even the New York Times would be overrun with the Tucson tragedy, took a gander online today, and was delighted. You have to admit, no matter what else you might say about the old gray lady, she is deep. She is a safe haven, with a vegetarian side menu in a world of red meat. I could say the same about the WSJ, but I read that so regularly that I didn't appreciate it today the way I appreciated the Times.
---