My Nissan Leaf life: How I almost leased one online – until my wife found out
(Read article summary)
The Nissan Leaf website is funky, informative and so seductive you might be ready to get one after the online experience. But take a test drive first.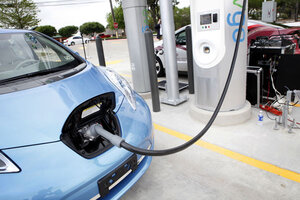 Lara Solt/The Dallas Morning News/AP/File
– Fifth installment in an occasional series
Buying stuff online has really gotten out of hand. At least for me. I just leased a car online without test driving it first. Oops.
Actually, it's not quite as bad as it sounds. Nissan's Leaf website is funky, informative, and seductive with those little futuristic metallic sounds that make you think you're in a spaceship. You may be lulled, as I was, into signing up for a Leaf entirely due to your online experience.
Of course, you're not really buying online. The Leaf website is just vetting who among its online visitors is truly serious. So even though I had put down a $99 deposit and clicked "commit" to lease a Leaf with solar panel, fast-charge port, and fog lamps, I was just getting a salesman to e-mail us to come to the dealership, sign actual documents, and take possession. I could still pull out.
Anyway, those were the reasons I offered my wife, who was giving me "the look" when she found out what I had done.
I should note that I had ridden in someone else's Leaf while reporting on plug-in vehicles, so I felt I knew the car already. But Laura had not. So I blamed the clever website and agreed that we should go on a test drive.
We called the Nissan dealer identified on the website – back in January, there were only four in Massachusetts that had a Leaf demo available – and went to take a look.
---