Honda recalls CR-V over window switch. Is yours on the list?
(Read article summary)
Honda recall involves 2002-06 models with switch that can cause fire. Beyond the Honda recall of the CR-V, the automaker in the past month has issued major recalls of Civics, Pilots, and Accords for various safety problems.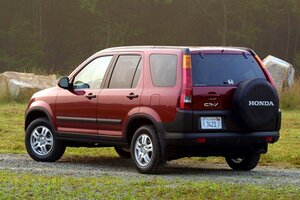 Honda/AP/File
Safety problems keep piling up for Honda in the United States. In the latest incident, the Japanese automaker is recalling some 268,000 CR-V crossovers because a faulty power window master switch can overheat and potentially cause a fire.
That follows on the heels of 1) the expansion of a Honda recall to include 820,000 Civic compact cars and Pilot SUVs a month ago for faulty headline wiring; 2) the expansion of another Honda recall late last month involving a power steering hose that now includes 572,000 Accords; and 3) the announcement this past week that the National Highway Traffic Safety Administration (NHTSA) is investigating reports that Odyssey minivans and Pilot SUVs not put in park can roll away even after drivers have pulled out the key.
If Honda owners are having trouble keeping track of the rash of recalls, here's a list of the problems and what models and model years they affect. If you own a:
---