Counterfeit airbags pose major safety risk. How to protect yourself.
(Read article summary)
Drivers who have had their airbags replaced in the last three years are at risk of having had counterfeit airbags installed. The National Highway Traffic Safety Administration has a list of vehicles that may be affected.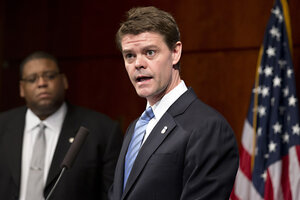 Manuel Balce Ceneta/AP/FIle
The National Highway Traffic Safety Administration (NHTSA) issued a consumer safety advisory this week, warning of the "extreme safety risk" posed by counterfeit airbags.
These phony airbags look nearly identical to certified, original equipment parts, the agency said. They even have the insignia and branding of major automakers. But during NHTSA testing, the counterfeit airbags consistently malfunctioned, with results ranging from a failure to deploy to shooting flames and propelling metal shrapnel into the test dummy.
The agency says that 0.1 percent of the vehicles on U.S. roads, some 250,000 vehicles, are makes and models for which fake airbags are available. An Associated Press (AP) story reports that NHTSA had been briefed by auto industry officials who said that tens of thousands of car owners may be driving vehicles with counterfeit airbags.
About 1.5 million airbags are deployed each year in police-reported tow-away crashes. While the NHTSA said that it is not aware of any deaths or injuries related to the issue of counterfeit airbags, police accident investigators might not be able to determine if an airbag was fake or genuine.
Based on what is currently known, the NHTSA and its partners have determined that the counterfeit airbags were manufactured in Mainland China.
---