After Sandy, should gas stations have backup power?
(Read article summary)
The power outages caused by Hurricane Sandy caused long lines at the gas pumps, prompting some to suggest legislation that would require gas stations to have backup power sources. Is that a good idea?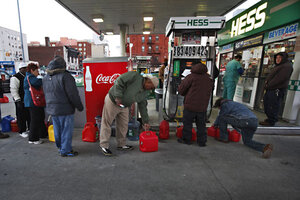 Brendan McDermid/Reuters/File
In the areas of the U.S. affected by Hurricane Sandy, lines for gasoline have been long. The problem isn't really one of supply; rather, it seems to be one of electricity. After all, if there's no power, there's no way to run the pumps.
Several elected officials have proposed a legislative solution that would fix such problems in the future, but one group of opponents is holding it at bay.
The Queens Gazette reports that Assembly member David Weprin and Rockland County State Senator David Carlucci (D-Clarkstown) plan to introduce a bill requiring many gas stations to have backup power sources. That would keep the pumps humming in the wake of subsequent storms like Sandy.
The bill would affect all gas stations built or substantially renovated in New York state after July 1, 2013. It would also affect stations within half a mile of interstates and other evacuation routes. The legislation, as written, requires that all such outlets "be capable of operating all fuel pumps, dispensing equipment, life safety systems and payment acceptance equipment using an alternative generated power source" for at least 72 hours.
Next door in New Jersey, Assemblywoman BettyLou DeCroce (R-26th) is sponsoring similar legislation.
Both bills seem modeled on a Florida law that passed in 2007, but just as there, some people are fighting back. And by "some people", we mean gas station owners and their lobbyists. 
According to the report in Huffington Post, the Fuel Merchants Association of New Jersey has been particularly aggressive in its attacks on DeCroce's bill. Lobbyist Eric DeGesero claims that if passed, it would pose an unfair burden for gas station owners.
RECOMMENDED: Compare data on 2011-2013 cars
DeGesero argues that the bill ignores other crucial merchants and service providers, like grocery and hardware stores. He also points to the complexity of the fuel supply system. Will refineries need alternative power supplies, too? What about pipelines? 
Both bills may ultimately pass, but the legislative process will likely be very, very long. In Florida, the battle dragged on until a compromise was reached. In the end, it was decided that gas stations along evacuation routes must be able to switch to generator power, but they don't technically have to own generators. 
Should station owners be responsible for backup power? If so, should they pay for it, or should oil companies? Or should we let the stations that can install backup systems do so, leaving them to reap the rewards when storms come ashore? 
[via John Voelcker]
---