US traffic fatalities rise for first time since 2005, nonprofit says
(Read article summary)
US traffic fatalities increased in 2012 for the first time since 2005, according to the nonprofit National Safety Council.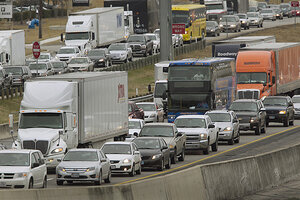 Ralph Barrera/Austin American-Statesman/AP/File
Traffic fatalities have been on the decline for a number of years, thanks in part to safer cars, increased use of safety belts, and a reduction in the number of drunk drivers. But the National Safety Council predicts that fatalities increased in 2012. If so, it would be the first time they've done so since 2005.
NSC vs. NHTSA
NSC is a nonprofit, nongovernmental organization with a mission "to save lives by preventing injuries and deaths at work, in homes and communities, and on the road through leadership, research, education and advocacy".
Every month, NSC receives traffic data from authorities in all 50 states, as well as the District of Columbia. Partnering with theNational Center for Health Statistics, NSC tracks not only fatalities, but also injuries, and considers deaths of the injured that occur within one year of an accident to be traffic-related.
That's a little different from the National Highway Traffic Safety Administration, the government agency that provides "official" U.S. traffic fatality stats. NHTSA only considers fatalities to be traffic-related if they occur within 30 days of an accident. Also, NHTSA only tracks accidents that take place on public roads, while NSC includes those that occur on private property.
FINDINGS
Based on preliminary data, NSC estimates that there were 36,200 traffic fatalities in 2012 -- an uptick of 5% from 2011 and the first increase in U.S. traffic fatalities since 2005. The number of injuries that required medical attention also rose 5% to 3.9 million.
---