Can Millennials build a car that Millennials will actually buy?
(Read article summary)
Automakers are understandably worried about Millennials, who aren't buying cars in the numbers the industry would like. A team of grad-student engineers at Clemson University is trying to change that.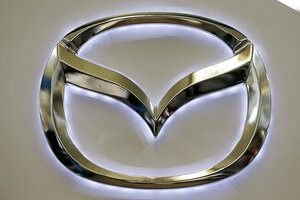 Gene J. Puskar/AP/File
We've spilled a lot of virtual ink discussing Generation Y (aka Millennials) and their love/hate relationship with cars. Among the findings in recent years:
Understandably, these doom-and-gloom predictions have automakers worried . Some are planning for a future filled with alternative mobility options. Others insist that, no, the kids are all right, just give them time and they'll come around. The latter have occasionally attempted to create cars just for Millennials, with mixed results.
And so, the younguns have taken matters into their own hands. According to Auto News, a team of grad-student engineers at Clemson University recently pulled the wraps off a long-awaited new car, built as a concept for Mazda.
---