Lincoln rebranding campaign launched. Will it work?
(Read article summary)
Ford and Vanity Fair are working to revitalize the automaker's Lincoln brand with a new commercial campaign. Buick has had success reinventing itself, so maybe Lincoln has a shot.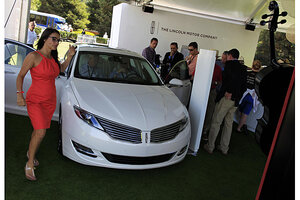 Michael Fiala/Reuters/File
Old Spice, Wendy's, MySpace: rebranding campaigns are everywhere these days. Now, Ford is trying its hand at the "re-invigoration" game with a new series of videos that aim to dust off the Lincoln name.
It's called the Lincoln Reimagine Project, and it's an element of Lincoln's larger "Hello, Again" rebranding campaign. The Reimagine Project centers around three shorts that re-envision classic Hollywood film types: the 70s road heist, the screwball comedy, and the noir thriller.
To direct those three vids, Lincoln has recruited four indie directors (two work as a team) and matched them with filmmaking mentor Rodrigo Garcia, who has helmed episodes of The Sopranos, Six Feet Under, and Big Love, among other properties. Vanity Fair is a co-sponsor of the project.
What's the link between classic films and Lincoln? According to the company's Andrew Frick, "Lincoln continues to embrace its original spirit of forward-thinking design and innovation. The creativity and individuality of these filmmakers inspire them to transform iconic film genres from the past into new and vibrant visions of the future – an accomplishment that mirrors what Lincoln intends to do with its vehicles over the next four years."
The films debuted today on Hello-Again.com, the centerpiece of the "Hello, Again" campaign.
OUR TAKE
The good news is that all of the clips look great. They capture the essence of the three film styles they reference, while simultaneously offering fresh perspectives. That's no small accomplishment.
---