US bridges need $3 trillion in repairs, study finds
(Read article summary)
A worryingly high number of bridges in the United States are 'structurally deficient,' according to a recent survey.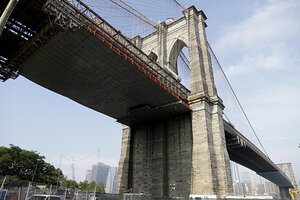 Seth Wenig/AP/File
To some of us, road trips are among life's great pleasures. Ambling down a scenic byway, a full can of Red Bull/Diet Coke/chamomile tea in our hand/cupholder/lap, the wind in our hair/eyes/bald spot: these are the things we live for.
But although the view from our perch behind the wheel seems magnificent, we'd best not look down: according to a recent analysis, over ten percent of the bridges that we cross on our outings are deemed "structurally deficient" -- and some of them carry the ominous designation "fracture critical".
This news verifies what we've heard many, many times before. In 2009, for example, the American Society of Civil Engineers gave U.S. roads a grade of D-minus. Pew Research says that one-third of those roads are substandard, and a quarter of our bridges are falling apart. In fact, America's crumbling infrastructure could be one cause for the uptick in traffic fatalities we saw in 2012.
---