EPA will make results of gas mileage audits public
(Read article summary)
The EPA will release the results of fuel economy audits on 20 vehicles after overly optimistic estimates for Ford, Hyundai, and Kia stirred public outrage and legal action.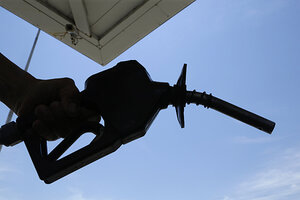 Seth Perlman/AP/File
The EPA hopes to avoid future fuel-economy scandals, by giving the public more information about its audits of the data submitted by carmakers.
After claims of overly-optimistic mileage from Ford, Hyundai, and Kia, the agency plans to release the results of about 20 recent fuel-economy audits to the public, Automotive News reports (subscription may be required).
The audits were meant to double-check the results of the "coast-down" test, which was the source of the controversy over exaggerated Hyundai and Kia fuel economy numbers last year.
The test involves accelerating a vehicle to 80 mph and then letting it coast to a stop. All makers conduct this test, but according to an industry source, there are only two test tracks in the U.S. available to the EPA that are long enough for the test.
The coastdown test provides data on the aerodynamics of a vehicle, the rolling resistance of its tires, and drivetrain friction; its results are used to calibrate a dynamometer for the other fuel economy tests.
The EPA began regularly auditing test results three years ago, as fuel economy became a more important factor for buyers.
---