Why electric car rentals are usually short
(Read article summary)
Rentals of electric cars have increased in recent years, but the length of the rentals is typically short due to a familiar culprit: range anxiety.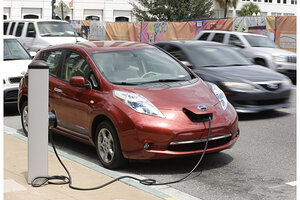 John Raoux/AP/File
Over the last few years, several large rental firms have helped the electric car cause by adding plug-in vehicles to their rental fleets.
In theory, it's the ideal people to get people into electric cars in general--some seat time is usually enough to convince people that EVs are the way to go.
The good news is that people are certainly renting those cars. The bad news is that they aren't doing so for very long, and it's due to a familiar electric car sticking point: range anxiety.
According to Bloomberg, customers trying out Nissan Leaf electric cars as part of Enterprise's rental fleet are swapping them for more conventional cars after 1.6 days on average--compared to the six or seven day period for cars on average. The number one cause is customers worrying whether they'll make it to a charging station before the battery runs out.
"People are very keen to try it, but they will switch out of the contract part way through" said Lee Broughton, head of sustainability at Enterprise, to Bloomberg.
---