Are biofuels best suited to air travel?
(Read article summary)
We pay a lot of attention to biofuels' potential in the auto industry, but the aviation industry could be their ideal market.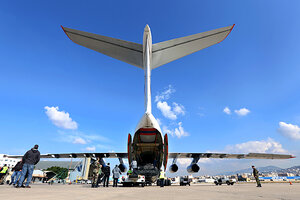 Bilal Hussein/AP
Given how familiar most of us are with cars, it's easy to see them as the be-all and end-all when it comes to cleaning up transportation. Reduce fossil fuels, increase electric propulsion, increase use of biofuels, job done.
With over a billion cars on roads around the world improving them is clearly a priority, but other industries are seeking alternatives to conventional fossil fuels too, one of which is the aviation industry.
And as aviation gears up for a very real push towards biofuels, we ask--is aviation actually the ideal market for such fuels, rather than the car industry?
The latest column from industry analysts Navigant Research suggests it could well be, as a whole supply chain for biofuels builds around it and several airlines begin to incorporate aviation biofuels into their routes.
It isn't just small-time airlines either.
KLM Royal Dutch Airlines, which runs hundreds of European and international routes,opened a biofuel route between the Netherlands and New York earlier this year. While the biofuel is a 50 percent blend with regular fossil fuel kerosene, it's still a long route using 50 percent less fossil fuel than usual.
---